---

---
Rock, Paper, Scissors
Port of the text game to FORTRAN 77, originally published in David H. Ahl's BASIC Computer Games:
In this computerized version of rock-scissors-paper, you can play up to ten games vs. the computer.
A review is printed at the end.
Gameplay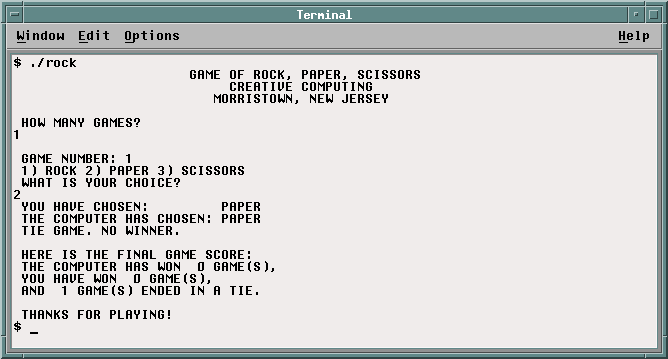 Functions & Subroutines
The game calls three procedures that are not part of the ANSI FORTRAN 77 language standard:
RESULT = TIME()

Returns timestamp in seconds (INTEGER). Required for the initialisation of the pseudo-random number generator.

RESULT = RAND(I)

Returns the next random number (REAL).

CALL SRAND(SEED)

Initialises the pseudo-random number generator with given seed value (INTEGER).
Most modern compilers provide these through extensions. The block data stores sign names and rules in common variables.
Program Listing
Save the program as file rock.f on your computer.
C     ******************************************************************
C
C     ROCK, PAPER, SCISSORS
C
C     ORIGINAL BASIC VERSION WRITTEN BY CHARLES LUND. MODIFIED AND
C     PUBLISHED BY DAVID H. AHL. CONVERTED TO FORTRAN BY PHILIPP ENGEL.
C
C     ******************************************************************
      PROGRAM ROCK
      INTEGER     I, ICOMP, ICOMPC, IPLAY, IPLAYC, ISTAT, NGAMES
      CHARACTER*8 NAMES(3)
      INTEGER     RULES(3)
      COMMON /GLOBAL/ NAMES, RULES
      DATA ICOMPC, IPLAYC /0,0/

      CALL SRAND(TIME())
      PRINT 100
C
C     ASK PLAYER HOW MANY GAMES TO PLAY.
C
   10 CONTINUE
      PRINT 110
      READ (*, 300, IOSTAT=ISTAT) NGAMES

      IF (ISTAT .NE. 0 .OR. NGAMES .LT. 1) THEN
        PRINT 120
        GOTO 10
      END IF

      IF (NGAMES .GT. 10) THEN
        PRINT 130
        GOTO 10
      END IF
C
C     THE MAIN LOOP.
C
      DO 20 I = 1, NGAMES
      ICOMP = 1 + INT(RAND(0) * 3)
      PRINT 140, I
C
C     READ PLAYER'S CHOICE.
C
   30 CONTINUE
      READ (*, 300, IOSTAT=ISTAT) IPLAY
      IF ((IPLAY - 1) * (IPLAY - 2) * (IPLAY - 3) .NE. 0) THEN
        PRINT 120
        GOTO 30
      END IF

      PRINT 150, NAMES(IPLAY)
      PRINT 160, NAMES(ICOMP)
C
C     DETERMINE THE WINNER.
C
      IF (IPLAY .EQ. ICOMP) THEN
        PRINT 170
      ELSE IF (RULES(IPLAY) .EQ. ICOMP) THEN
        PRINT 180
        IPLAYC = IPLAYC + 1
      ELSE
        PRINT 190
        ICOMPC = ICOMPC + 1
      END IF
   20 CONTINUE
C
C     OUTPUT GAME SCORE.
C
      PRINT 200, ICOMPC, IPLAYC, NGAMES - (ICOMPC + IPLAYC)

  100 FORMAT (21X,' GAME OF ROCK, PAPER, SCISSORS',/,
     &26X,' CREATIVE COMPUTING',/,24X,' MORRISTOWN, NEW JERSEY')
  110 FORMAT (/,' HOW MANY GAMES?')
  120 FORMAT (' INVALID INPUT.')
  130 FORMAT (' SORRY, BUT WE AREN''T ALLOWED TO PLAY THAT MANY.')
  140 FORMAT (/,' GAME NUMBER:',I2,/
     &' 1) ROCK 2) PAPER 3) SCISSORS',/,
     &' WHAT IS YOUR CHOICE?')
  150 FORMAT (' YOU HAVE CHOSEN:         ',A)
  160 FORMAT (' THE COMPUTER HAS CHOSEN: ',A)
  170 FORMAT (' TIE GAME. NO WINNER.')
  180 FORMAT (' YOU WIN!')
  190 FORMAT (' THE COMPUTER WINS!')
  200 FORMAT (/,' HERE IS THE FINAL GAME SCORE:',/,
     &' THE COMPUTER HAS WON ',I2,' GAME(S),',/,
     &' YOU HAVE WON ',I2,' GAME(S),'/,
     &' AND ',I2,' GAME(S) ENDED IN A TIE.',/,/,' THANKS FOR PLAYING!')
  300 FORMAT (I2)
      END
C     ******************************************************************
      BLOCK DATA
C
C     COMMON VARIABLES:
C
C     NAMES - STRING ARRAY WITH THE THREE SYMBOL NAMES.
C     RULES - THE GAME RULES: 1 BEATS 3, 2 BEATS 1, AND 3 BEATS 2.
C
      CHARACTER*8 NAMES(3)
      INTEGER     RULES(3)
      COMMON /GLOBAL/ NAMES, RULES
      DATA NAMES /'ROCK','PAPER','SCISSORS'/
      DATA RULES /3,1,2/
      END
Build Instructions
UNIX
Flang/F18
$ flang -o rock rock.f
GNU Fortran
$ gfortran -o rock rock.f
Intel Fortran Compiler
$ ifort -o rock rock.f
Win32
Digital/Compaq Visual Fortran
> fl32.exe rock.f /Fe=rock.exe
References
---